We frequently arrange markets, celebrations of national holidays and other social events at the homestead museum of Kollsberg. This year we also celebrate Kollsberg's 100th Anniversary!
Visitors are warmly invited to take part in our events. Please check the programme below to see what is happening when.
Admission is free unless otherwise indicated. We are looking forward to seeing you at Kollsberg!
Easter market –  1 April 2023
The Easter market at Kollsberg is held every year on Saturday afternoon before Palm Sunday (12 noon-3 pm). You can buy homemade Easter decorations, such as the traditional Easter witches, embroidery, decorated twigs, and many kinds of pastries. The museum café is open. Children can paint 'Easter letters' which are then sent to the witches who meet at Blåkulla according to Swedish folklore.
Walpurgis night – 30 April 2023
Walpurgis night celebrations have been held at the homestead museum of Kollsberg since 1925 from 7.30 until 10 pm. Young and old come together on the last evening of April to listen to songs and speeches, watch the traditional bonfire and, after dark, the fireworks. Refreshments are for sale the whole evening. Entrance fee: 40 SEK/adult, children up to 15 free admission.
National Day – 6 June 2023
The 6th of June is Sweden's National Day. Since 2016, this day is celebrated at Kollsberg with a moped rally. If you are interested in old or new mopeds, this is your chance to come and watch or participate yourself. Start and finish at the homestead museum!
Midsummer – 25 June 2023
One of the highlights of the year is the Midsummer celebration. The day starts at 11 am with a religious service, followed by coffee. After lunch, children dance around the Midsummer pole, and there is an entertainment programme with music and folk dance.
100th Anniversary of Museum Kollsberg – 21 and 22 July 2023
Friday 21 July at 6 pm: Book release of the book in memory of Paul Piltz. Göte Olsson plays old, well-known records in Torsbymagasinet. Coffee service.
Saturday 22 July at 11 am: Welcome and presentation by the board members. Alf Brorson and Håkan Larsson will tell about the history of the homestead museum, amongst others, and there will be music. From 1 pm: Entertainment by Tor-Leif Styffe and others. We offer "afternoon coffee" and cake. There are several musicians during the afternoon, and children will be entertained. The Veteran Fire Brigade and the Vehicle Museum are on site.
Flea market – 19 August 2023
Flea market (loppis) on the museum grounds! Come and find charming old tableware, clothes, works of art and many other things.
"Höstglöd" with farmers market – 30 September 2023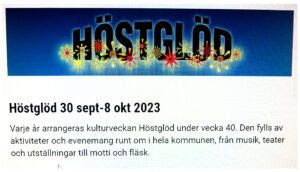 Every year at the start of autumn, the town of Torsby arranges a week packed with cultural activities across the commune called "Autumn Glow". The week starts at noon at the Kollsberg museum grounds with music and a speech by Torsby's head of culture Evelina Nilsson. Until 4 pm, there is a farmers market where you can find vegetables, fresh juices, jams, handicrafts, clothes and more, as well as a book market with new and older books. The museum café serves the last "motti o fläsk" of the season.
Christmas market – 9 December 2023
The biggest event of the year at Kollsberg is the traditional Christmas market on Saturday before Second Advent, from 1-4 pm. All houses are open to the public and involved in the market. You can see and buy homemade Christmas decorations, such as traditional spruce bucks, embroideries and knitwear. Or try the local specialty potato sausages (joappelkorv). A great attraction are the homemade gingerbread creations, such as the beautifully crafted gingerbread houses. We also celebrate the feast of Lucia with a Lucia procession. Did you know that Santa Claus is waiting for you in the smoke house? Children can take a horsedrawn sleigh ride in case of snow. The museum café is open for the last time this year!