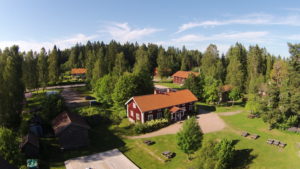 The homestead museum of Kollsberg in Torsby is located at the head of beautiful Lake Fryken. The museum gathers a large number of original wooden houses with traditional furnishings. All houses and buildings stood once in or near Torsby. Here you can enjoy as well a great view of the lake and the surrounding countryside.
One of the buildings is a traditional Finnish smoke house without chimney, so that the smoke from the fireplace stays under the roof. You can also visit an 18th-century country store, where you can buy old-fashioned candy. Opposite this building, in the old storehouse, a collection of original artefacts will tell you more about the development of Torsby from a stone age settlement to the regional centre that it is now.
At the museum café, you can enjoy homebaked refreshments and local specialties. Next to the museum, you will find a public bathing area down by the lake.